One of the dogs I met during my trip to Pickens County Animal Control was Charlie. Although his beginnings were sad, his amazing resilience humbles me and shows me that the work of rescue is always worthwhile and truly makes a difference in the lives rescue (mine included).
Charlie was found abandoned on the side of the road in rural South Carolina with a broken leg. Pickens County Animal Control was alerted and picked him up and brought him to the Pickens County Animal Control Facility.  As I've described, this facility is so severely under-resourced that it is not set up to facilitate adoptions to the public.  Because he was wearing a collar, Charlie was placed on a 10-day stray hold. Luckily for Charlie, and me because I was utterly privileged to meet this amazing dog, DC PAWS Rescue was on site at the end of his 10-day hold period.
When I arrived at the shelter, I met Charlie, whose stray hold period was expiring. We opened the cage to see a miserable and scared dog. We placed a slip lead leash around his neck to see if he would come with us outside of the shelter, but he couldn't stand on his own. So we helped him up and he limped out of the shelter with us.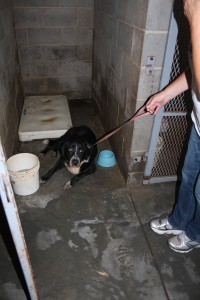 Amazingly, once out of the shelter, Charlie was a different dog! He was happy and wagging his tail, even though he could barely stand.  We placed him in our car and headed straight to the vet to determine what was wrong with his leg. Once in the car, Charlie's transformation was complete, he realized he was being rescued. He was transformed from a scared, depressed dog lacking all hope to a happy and sweet dog who did nothing but give everyone around him kisses.
The vet x-rayed Charlie's leg and told us that he had a broken leg that had healed incorrectly. Poor Charlie was left for ten long days on a concrete floor, unable to move on his broken leg, to wait for his stray hold to end. 
Charlie needed a specialist to repair his leg, so we took him to a surgeon who performed a successful surgery! After the surgery, the surgeon gave us a small plastic bag containing a 22 caliber bullet.  Someone had cruelly shot Charlie and left him to suffer and die at the side of the road. 
Despite this tragic start, Charlie has nothing but love for every person he meets.  This never ceases to amaze me. The ability for animals to go through the experiences that Charlie has and come out on the other side still loving creatures is nothing short of a miracle.
Charlie's surgery and post-operative care has cost $3,500, so far and we understand that he may need more x-rays. He will still need physical therapy and heartworm treatment that will likely cost and additional $1,500 in treatment and boarding. With all Charlie has been thorough, there is still more he must endure. And through all of it, I have no doubt he will remain the loving dog that I met.
Despite this high cost, DC PAWS, is committed to the animals its rescues, even when faced with serious and expensive medical issues.  This is truly a blessing, for Charlie and so many others.
If you are so moved, Charlie's YouCaring page is:  http://www.youcaring.com/dc-paws-rescue-401354#.VbabQ8grUmM.email.
This will not only help Charlie, but so many other dogs and cats achieve their dreams being happy and healthy in a forever home.